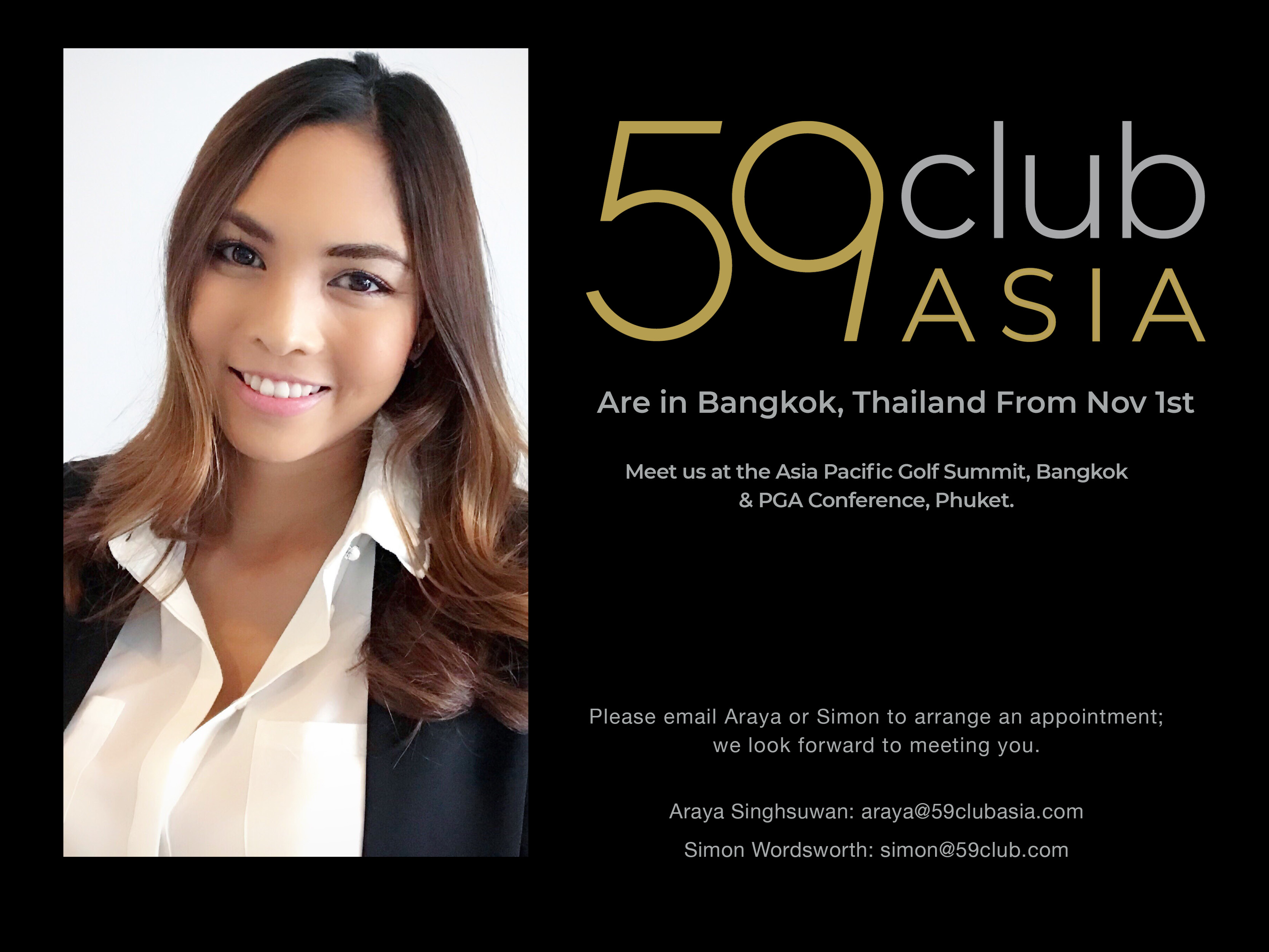 59club Asia opens its new office in Bangkok, signaling an increase in customer service standards and sales performance levels across the region, with Golf & Leisure club providers set to take advantage of the force that is the 59club 'effect'.
59club - the industry leading Service & Sales Analysts – currently operate across the UK, Europe & the UAE, and have now opened new offices in Bangkok to meet the ever-growing demand for their performance management tools and training services around the Globe.
59club are delighted to welcome Araya Singhsuwan who will run the 59club Asia Operation following a successful playing career and having worked and developed a very detailed understanding of golf and its operation. Araya has now turned her considerable skills and focus to the commercial and service world of Golf working with 59club Asia. Araya will lead the business with a solid foundation from which she and her colleagues at 59club will further develop and raise the service culture across the industry, improving the customer experience for the hundreds of thousands of golfers that enjoy playing within Thailand and across the region.
Over the past 10 years, 59club has taken the industry by storm, leading venues have quickly aligned their sales & service principals to the industry benchmark. Whilst an annual Awards Ceremony, regarded as the 'Oscars' of the golf industry, honors the front runners, who reap the rewards associated with achieving 59club's Customer Service 'excellence' seal of approval.
The 59club 'effect' is destined to make a huge impact in Asia, as some of the very best golf venues vie to advance their member and guest experience. Calling on their industry leading analytical tools and training services, 59club's mystery shopper audits, customer satisfaction surveys and their interactive member communication apps are set to assist the Asian market to performance manage staff to achieve elevated levels of service and sales etiquette.
Venues, for the first time can benchmark their golf visitor experience, ability to manage a group golf day, their prospective member enquiry procedure and deliver surveys that measure new member satisfaction levels and club life alongside each visitor experience within golf, leisure & spa. Complete with the ability to compare performance levels against chosen local and global competitors, industry standards and the best performing venues, 59clubs powerful data generates real and current information of the highest quality and value.
The results highlight countless opportunities for venues to improve their operation, in turn increasing member and guest satisfaction, plus revenue & profits in the process.
59club is endorsed and supported by governing bodies such as The Professional Golfers Association & England Golf, 59club are also a chosen partner of the Golf Club Managers Association (GCMA), European Tour Properties, and are partners with many leading golf suppliers including Toro & Club Car.
59club are proud to work with leading hotel chains and resorts such as Gleneagles, The Belfry, Celtic Manor, The Grove, The Dukes St Andrews, Emirates Golf Club, Yas Links, Monte Rei, Macdonald Hotels, RBH and Marriott Golf, plus many members focused private clubs including, Roehampton, Stoke Park and Foxhills to name just a few...
Those wanting to take advantage of 59club's services will be able to meet the team at the Asia Pacific Golf Summit, Bangkoktaking place 1st - 4th November. Whilst, later in the month Simon Wordsworth, 59Club CEO will be a key note speaker at the PGA Members International Conference, Laguna Phuket between 11th - 14th November.